Thursday, July 13
Gilbert Gottfried and I own you for 2 days
Hey all you MFK'ers, this here's Connor from
IGIF
, and I'm proud to
boast that the leader of the MFK'ers, Taylor, has bestowed upon me the
key to his city for 2 whole days (the 13th and 14th). I think he was
a little hasty in that decision, because I have a knack for
overrunning cities I temporarily rule with prostitution, gang
violence, and DVD copies of
Problem Child
. On that note, in
fact, I should mention that I've made
Gilbert Gottfried
my Secretary of War. What now,
MFK'ers?!?
In all seriousness, I'm glad I was asked to guest post. I feel
there's a TON of music that I've featured on IGIF that people seemd to
really like, but there's not a high turnover rate in terms of
post-IGIF bloggage on said music. So for my first official post as
interim Chancellor of all you MFK'ers out there, I've decided to
feature a few bands that I feel deserve about a million times more
attention than they're currently getting.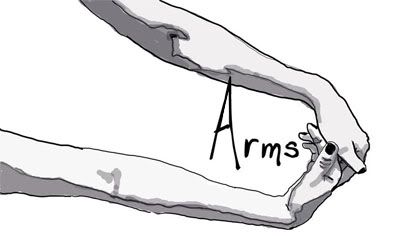 Arms
is essentially the music of
multi-instrumentalist indie rocker
Todd Goldstein
, who's also
in
The Harlem Shakes
and the more lo-fi folk-oriented 2-some
The Sea and the Gulls
. Arms marked a transition in my blogging
life, as I felt compelled to move from "posting for the sake of
posting" to "posting what I love." I sorta freaked out about a few of
his songs over at IGIF, because in all honesty they were among the
best I've heard all year.
Arms really seems to have its finger on the pulse, so to speak. Their
only release,
Shitty Little Disco
, a promising 7-song debut EP,
shows absolutely remarkable potential. The songs, for the most part,
gave me the same sensation of suprise and excitement that I felt when
I first listened to
Wolf Parade
's second EP or even
CYSHY
's self-titled debut. You just get the feeling that Todd
knows
exactly
what he's doing to you at that moment, and you
can't help but to
go with it
. His music is the type that
simply surprises you as you're listening.
MP3:
Arms
- Tiger Tamer
MP3:
Arms - Whirring
MP3:
Arms
- Jon The Escalator
Second up, we have
We Will
Build
. These guys won a sort of "best band" contest (for band's
I'd never heard of) back on IGIF a little while ago. I was stunned,
first of all, at how impossibly creative and amazing and fun their
music is, and secondly how little coverage they'd been given in the
blogosphere. Basically, WWB is an electronica duo that create massive
soundscapes of all sorts of synths and bleeps and effects with added
guitar parts and samples. Not quite
The Postal Service
, but
damn close in terms of talent and complexity.
Seriously, We Will Build deserves your full attention. You can grab
ALL of their songs for FREE from their website
here
.
Here are my favorites, with added spunk:
MP3:
We Will Build - White Furniture
(heartwrenching +/-
heartwarming)
MP3:
We Will Build - I'm Feeling Very Unsatisfied
(epic
Roman rave in 410 A.D.)
MP3:
We Will Build - Out These Doors Inside
(intense techno-flava)
MP3:
We Will Build - 1214
(indie-pop bubblegum sunset)
I'll have two more for you all tomorrow, and maybe something a little
extra for the kids...
posted by Lizzy, 7/13/2006 06:14:00 AM |
link
3 comments


---
3 Comments: